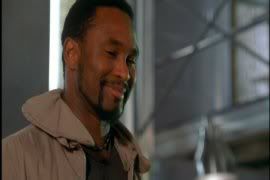 Neil Cuddahy -- Played by Xuan Fraser

Neil (Neal) Cuddahy.

Mutant Type: Molecular (Energy).

First Appearance: "Whiter Shade of Pale."

Quote: Brennan: "If I don't get my double latte before noon, I'm toast the rest of the day."
Neil: "Not a problem for me."
Jesse: "Yeah, not with your new mutancy. How many hours of sleep do you need, anyway?"
Neil: "Oh, half an hour mostly."
Brennan: "I'd save 50 bucks on coffee a week alone with that."

Details: Neil was a safehouse operator who only needed a half an hour of sleep a night. His new mutant ability of insomnia was a boon in his other job as underground courier, carrying supplies between safehouses across the country. He happened to be stocking a safehouse the night Danielle Hartman stole a genetic sequencer from the facility. When Jesse Kilmartin and Brennan Mulwray failed to catch her, they simultaneously elected Neil to deliver the bad news to Adam Kane.

From Tribune Entertainment's former faux website My Friend's Bookstore: NEAL CUDDAHY: You won't catch this guy falling asleep on the job. Neal is a Molecular whose body processes energy so he doesn't require sleep. A professional driver, his non-stop midnight truck runs have transported hundreds of New Mutants and needed supplies to safe houses all over the country. Low key and fond of Jimmy Buffet tunes, Neal has only one complaint: "It's lonely when you're the only one awake."

FOR DRIVERS ONLY CONTACT: Neil Kowalski through the MXL website or CB radio ID "No-Doze".

Trivia: Depending on which website you're looking at, Neil's last name is alternatively listed as Kowalski or Cuddahy.



Xuan Fraser

Return to The Mutant X Warehouse