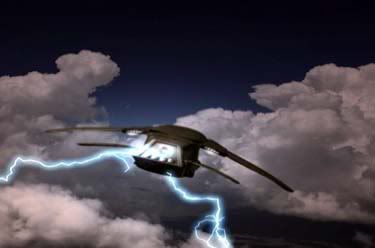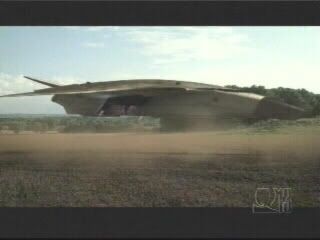 The Double Helix.

First Appearance: "Shock of the New."

Details: This Virtual Take-Off and Landing (VTOL) aircraft had a cloaking device/stealth sheilds, an autopilot mode, voice activated comlink system connected to Sanctuary, an ionizing filter and a microwave blast generator. In the first season, the Double Helix had a virtual computer screen. Adam's thoughts from his Mutant X Lives diary: I have never been fond of transportation vehicles. In other words, I'm not a car guy. They never go as fast as I can think. And the ones that do, I would not risk my life to ride in. Air travel is very much the same. However, when your base of operations is located inside a mountain and the expanse of your work covers the globe, options are limited. Hence, the Double Helix, a customized jet created from my twisted blueprints that took an innocent airplane's "DNA" and mutated it to my needs. I was fortunate to be associated with aero-engineers who translate my outrageous ideas into an actual plane. Essentially, the Double Helix is a flying laboratory that can easily break Mach 1. It brings the primary resources of Stormking Mountain with it as well as members of Mutant X on missions. The interior is as roomy as any part of our headquarters. It has a cloaking device, sound deflectors and landing gear so precise it can park like an automobile on a dime, if necessary, and remain unnoticed. While manual drive still preferable, it can also autopilot and respond to verbal commands. It has radar, sonar and temporal components and is itself an independent computer that can link or separate from countless sources. The cost of such a bird was, putting it mildly, stratospheric. The mere maintenance on it and its partially equipped back up could cripple a small country. I am indebted to the "angels" who trusted me with the funds…and never even asked for a ride in return. Ironically, I am loathe to pilot the thing. When pressed, I am proficient, but aviation is not one of my natural gifts. Jesse has proven to be the best, quite skillful actually, followed by Vince of Mutant X's Underground. Surprisingly, Emma has also taken smoothly to the pilot seat, despite her reluctance to deal with anything overtly technical. Brennan, however, has far too much of a "hot rod" mentality for me not to envision expensive repairs every time he takes the helm and I won't even mention Shalimar in this context. It's personalities like the latter two that made me hold out for the "ghost pilot" features, despite the price tag. So, Mutant X flies. Until transport becomes free of physical machinery, the Double Helix will remain our silent, aviary member.

Here are the Double Helix's season 2 blueprints by production designer John Blackie, from the Film Folks website (click on the thumbnails for a larger image).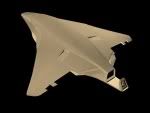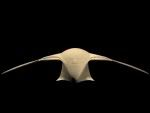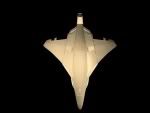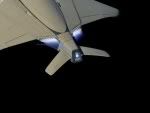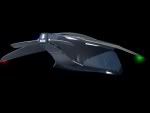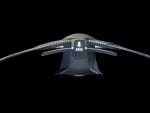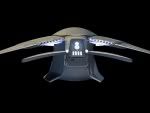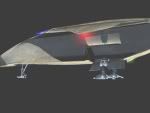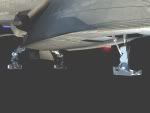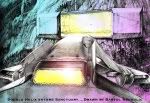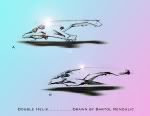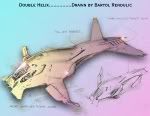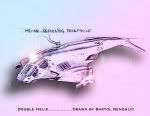 Return to The Mutant X Warehouse