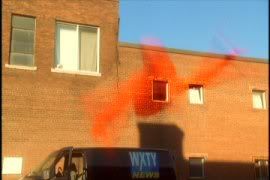 Cyrus Payton -- Played by Brandon Thomas (voice)

Cyrus Payton.

Mutant Type: Molecular (Astral Projection).

First Appearance: "Body and Soul."

Quote: Cyrus: "I know what you are. Why are you protecting them?"
Emma: "We don't want to hurt you. Just give up!"
Cyrus: "Give up?"

Details: Cyrus was a teenager involved in The Walker Project, a Genomex research Dennis Malone, Mark Kearney and Leo McAllister. Dennis and Mark stole Cyrus's soul after they discovered a method for Cyrus to project himself into someone else's body. The two scientists attempted to contain the soul after Cyrus's body died, but he escaped and began to exact his revenge by leaping from body to body, pushing the life force out of each as he entered. In this manner, Cyrus had killed Dennis, a limosine driver, the young bystander Kelly Trask, the manager of the cybercafe Web Fusi@n, television reporter Carla Reed and her cameraman Vic Morelli before Emma deLauro was able to knock him out of Carla's body so that Brennan Mulwray could make him disappear with a tesla coil.

From Adam's diary on Tribune Entertainment's Mutant X Lives website: CYRUS PAYTON - Are you really gone? If not, have you been avenged? Questions to a living ghost.