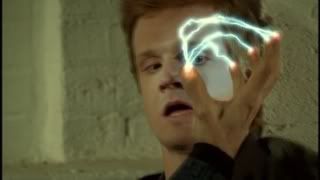 Tony Reese -- Played by
Matthew MacFadzean
Tony Reese
.
First Appearance:
"
Shock of the New
."
Also Seen In:
"
Deadly Desire
."
Quote:
"That's it, Lorna! I didn't want it to come to this, but I'll be damned if I'll let anyone else have you."
Details:
Tony Reese was a resentful member of
Brennan Mulwray
's pre-Mutant X gang. Once he witnessed Brennan using his abilities, Tony relayed the tip to
Proxy Blue
, inadvertently alerting the GSA to Brennan's location. The next time Tony ran into Brennan several months later, he was plotting to steal the dangerous computer virus with the new mutant thief
Lorna Templeton
. Tony snapped into a jealous rage when Lorna set her sights on Brennan, so Lorna murdered him with her scorpion stingers.