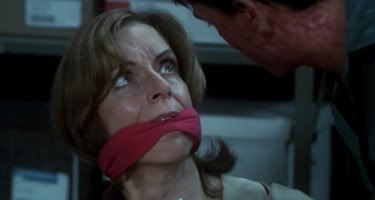 Dr. Denise Willett -- Played by Nancy Palk.

Dr. Denise Willett.

First Appearance: "Shadows of Darkness."

Quote: "I would hate for the scientific community to get wind of your fantastic theories, Doctor."

Details: St. Pastor's Hospital administrator Dr. Denise Willett worked in conjuction with the hospital's owner, Trendall Labs, on Project IET, an experiment where children were injected with Trendall's cortisol in an effort to cure their phobias. Fifteen years after one of the experiment's subjects, psionic Johnny Cummings, destroyed the children's psychiatric ward in a fire, Dr. Willett reopened the hospital, unaware that Johnny had been 'haunting' the hospital with his illusions since the fire. Though Dr. Willett attempted to keep the hospital's ghostly apparitions out of the press, Mutant X was called in to investigate. Johnny learned that she was involved in Project IET and vowed revenge by setting Dr. Willett on fire. Fortunately, Mutant X, aided by Johnny's childhood friend Sandy Fetko, was able to persuade him to let her face justice in the conventional way.

---

Nancy Palk

Return to The Mutant X Warehouse